There has been considerable debate about the charges of ACS journals and SUNY has made headlines in "

Walking away from the American Chemical Society

"

http://www.attemptingelegance.com/?p=1765

where they intend to cancel subscriptions to the ACS and use Royal Society Of Chemistry material instead. [*]

However I imagine SUNY know what they are doing and they may say – for teaching it doesn't matter what exact examples we pick. But are RSC cheaper? Quite by chance I was investigating their new "Gold for Gold" product and discovered that they were charging for Open material (/pmr/2012/11/06/royal-society-of-chemistry-will-charge-students-for-re-using-gold-open-access-articles/ ). Richard Kidd has explained this as a "bug" For me "bug" is not an excuse for charging for Open. I will return to this in a later post. But what shook me was the prices.
To check it wasn't due to the "Open" "bug" I went back to a Closed RSC article (i.e. one I can't read and have to pay for). I chose the journal Chemical Communications because the papers are short (max 2 pages, I think) and very much the sort of thing that someone (in SUNY, say) might use in a course pack. So I went to the "Request permissions" button and simulated being an academic with a class of 50 students and creating both electronic and printed material, one copy for each student. This is a very common type of operation in teaching. I requested the whole article (it doesn't make sense to have less than the full article if it's only 2 pages). Here's the quick price: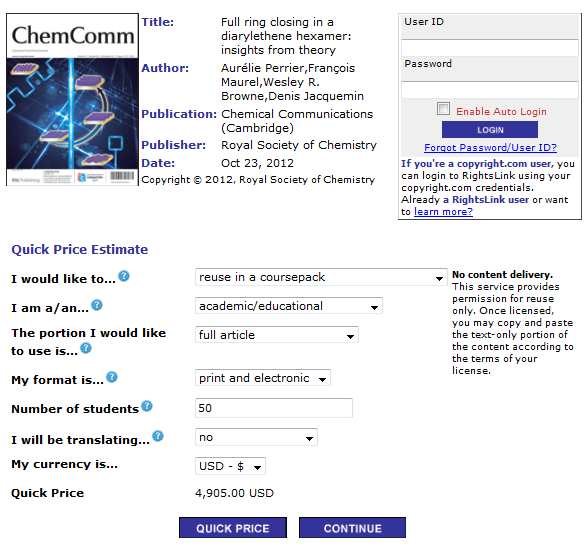 I have checked I haven't got numbers, currency, etc. wrong.
The RSC will charge EVERY student ONE HUNDRED DOLLARS for a TWO-PAGE article. (And it's the students who pay – there is no fairy godmother).
By comparison I went to the ACS. I found a recent article (probably several pages – *I* can't read it – it costs 35USD). I went through the same process. (the fields are different but sufficiently similar: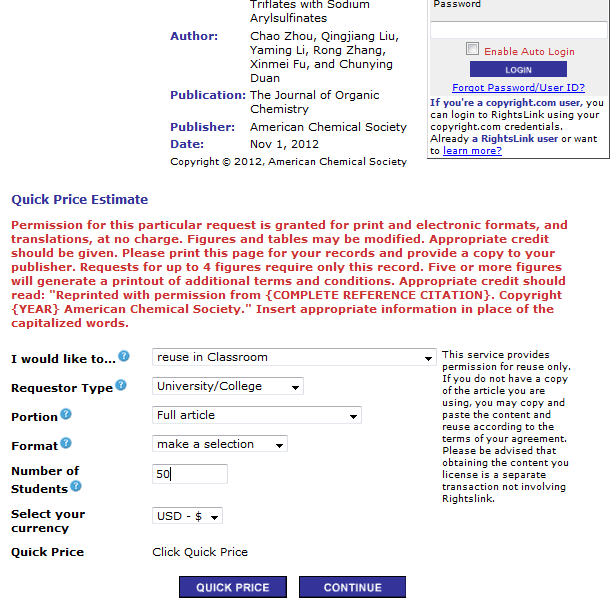 NO CHARGE. So what the ACS makes available for free, the RSC charges nearly 5000 USD for.
The story speaks for itself.
[*] Personally I cannot see the rationale – for research articles – every paper is unique and a non-substitutable good (Every publisher has a monopoly). It's like saying "I have a BMW. The maintenance manual is overpriced so I'll buy a VW manual instead as it's cheaper".