I have been trying to find "Open Access" articles published in Royal Society of Chemistry journals. It's very difficult – Google doesn't help – and I've scanned about 200 abstracts without finding one. Then I happened on http://blogs.rsc.org/cc/2012/10/08/chemcomm-celebrates-its-first-gold-for-gold-communication/ (I'll reproduce it in full without permission but I have removed an image of a gold medal):
ChemComm celebrates its first Gold for Gold communication

08 Oct 2012

By Joanne Thomson.

A groundbreaking £1 million initiative to support British researchers

Eugen Stulz (University of Southampton) and colleagues are the first ChemComm
authors to publish a communication as part of our Gold for Gold initiative.

Their communication, entitled 'A DNA based five-state switch with programmed reversibility'
is now free to access for all.

'I'm delighted that Eugen's communication is the first open access communication to be published in ChemComm using the RSC's Gold for Gold programme,'  says Phil Gale, Head of Chemistry at the University of Southampton. 'This open access programme will allow us to showcase our research to a much wider audience.'

Gold for Gold
is an innovative initiative rewarding UK RSC Gold customers with credits to publish a select number of papers in RSC journals via Open Science, the RSC's Gold Open Access option.

Gold for Gold" is an RSC scheme where they will match funding for UK authors http://www.rsc.org/AboutUs/News/PressReleases/2012/gold-for-gold-rsc-open-access.asp . Excerpts include:
UK institutes who are RSC Gold customers will shortly receive credit equal to the subscription paid, enabling their researchers, who are being asked to publish Open Access but often do not yet have funding to pay for it directly, to make their paper available via Open Science, the RSC's Gold OA option. 

The Research Councils UK (RCUK) also published their revised policy on Open Access, requiring researchers to publish in OA compliant journals.
'Gold for Gold' seeks to support researchers until the block grants from RCUK are distributed next April, which, once established are intended to fund Gold OA. [PMR emphasis]

And Univ of Cambridge and JISC seem to think it a good idea:
Lesley Gray, Journals Co-ordinator Scheme Manager from the University of Cambridge, said: "This initiative by the RSC is welcomed, and will serve to promote Open Access publishing to researchers."

Lorraine Estelle, Chief Executive of JISC congratulated the RSC on launching 'Gold for Gold' which "demonstrates the Society's engagement with the chemical science community and recent Open Access developments". 

So what is Eugen Stulz and readers (and perhaps RCUK) getting for their money? Here's the cover page of the article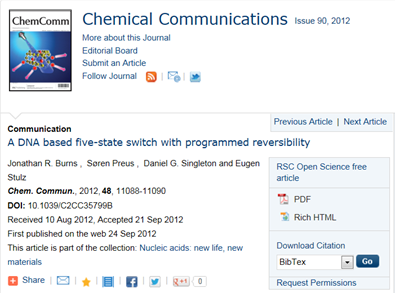 What rights do readers have? Is this compliant with the RCUK definition of Gold which requires CC-BY at least? The phrase "RSC Open Science free article" is not-clickable (unlike "Open Access" buttons in BMC and PLoS. I cannot find any more information by Googling. So let's look at the article – it should have some indication of authorship and copyright.
"This journal is © The Royal Society of Chemistry 2012″

This is a very strange phrase which I have found consistently in RSC material. I don't know what it means. There is no indication in the article that it is Open Access. I assume that almost anyone would assume this was an article in which the RSC claimed complete rights. So let's go to "Request Permissions". I'll simulate a student asking for permission to re-use the three diagrams in her thesis> That's a reasonable scientific thing to do. Indeed it could be scientifically irresponsible NOT to show other scientists' data.
So here's my request for a student to re-use the diagrams: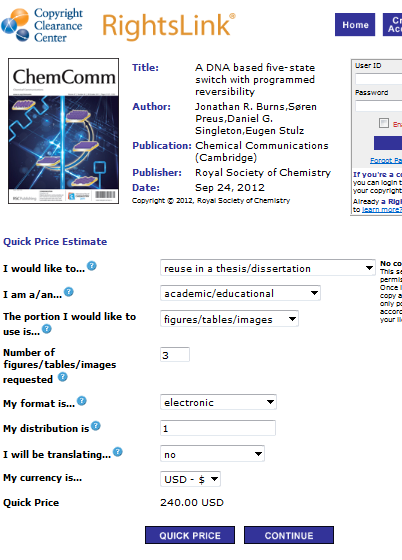 So even a student has to pay 240 USD for re-use of scientific data from this "Gold Open Access" article.
This is completely at odds with the RCUK policy of CC-BY for paid Open Access. RCUK read my blog and I hope they will make it quite clear to RSC that this is not in the letter or the spirit of paid Open Access.
And if as a lecturer I wanted to give every student in a class of 50 a copy of this 3-page "Open Access" article: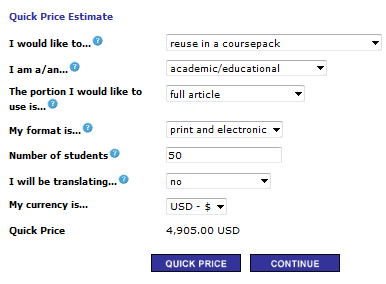 [No rant]