I recently got the following internal mail [In our chemistry Dept].
[chemistry librarian] am pleased to report that the first paper to be made freely available
under the RSC gold-for-gold voucher scheme is :
Facile assembly of an efficient CoOx water oxidation electrocatalyst
from Co-containing polyoxotitanate nanocages
Yi-Hsuan Lai ,  Chia-Yu Lin ,  Yaokang Lv ,  Timothy C. King , Alexander
Steiner ,  Nicoleta M. Muresan ,  Lihua Gan ,
Dominic S. Wright and Erwin Reisner


Chem. Commun., 2013, Advance Article
DOI: 10.1039/C2CC34934E
This is flagged as 'RSC Open science free article' on the RSC website:
http://pubs.rsc.org/en/content/articlelanding/2013/cc/c2cc34934e

This excited me. I have just helped to present a summer school on Materials Science Informatics in Melbourne and thought this would be an excellent example to illustrate some of my semantics tools. The authors have paid for this paper. (The RSC has "paid half the charges", but this appears to be an accounting/marketing exercise – without exposing their accounts to public view there is no evidence the RSC have put real money in. But that's not my primary current concern).
The authors have paid for openness. Have the RSC given it to them? The article appears: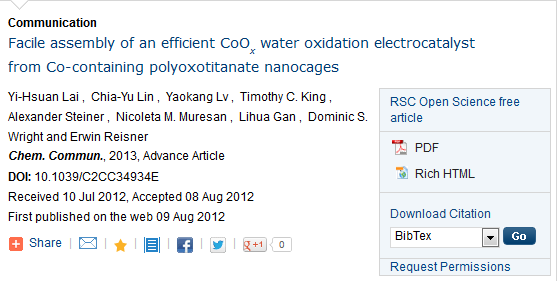 The only indication of Openness is "RSC Open Science article". This is not clickable or robot-readable and by default is meaningless. It gives no permissions to me. If I google this I get: (http://www.rsc.org/Publishing/Journals/OpenScience/)
. Author pays to make their article Open Access (Gold Open Access)

We give journal authors the choice of making their article Open Access. If you choose this publication route, you will pay an 'article processing fee' after peer-review and acceptance. The final 'article of record' is made available to all, immediately, via our website without any barriers to access.

This gives me – the reader – NO RIGHTS. I can read the article – because I can read it. That's all I cannot (because of the law of copyright).
Copy it permanently onto my machine
Use it for teaching
Use the images in a book
Carry out content-mining and publish the results
Or anything else.
Maybe there is an explicit copyright statement in the paper. Yes:
This is technically correct. But 99.9% of readers and many librarians would read this as "the article is copyright RSC". I have pointed this ou to the RSC over several years and they have not changed this.
It is unfair and IMO unethical not to give a clear indication of the reader's rights. Because the RSC knows over several years this is an issue and because they have consistently failed to make things clearer they are failing in their responsibility as a learned society. They have NOT said anything about authors' copyright. I do not impute motives here but call this problem
"Institutional Readerism"
The term Institutional, coined by Macpherson " (http://en.wikipedia.org/wiki/Institutional_racism), is:
"the collective failure of an organisation to provide an appropriate and professional service to people"

While, clearly, readers' rights are nowhere as serious as racism, the phrase itself describes precisely how the publishing industry is failing readers (and later I shall show, authors). It is often compounded by weasel words, non-standard and opaque terminology ("Open Science", "Author Choice", "Free Content"…)
It's worse. If I try to re-use this paper I go to the "Request permissions":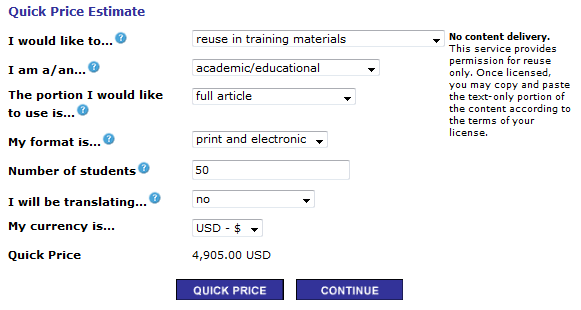 It would cost me 5000 USD to use this article. The RSC has said this was an error
/pmr/2012/11/08/is-the-royal-society-of-chemistry-really-cheaper-than-acs-rsc-charge-50-usd-per-student-per-page-for-teaching-materials/
The RSC said:
The OA bug we can fix with a change to our platform to replace the Permissions link. This one looks like a default setting for educational use we need to sort out with RightsLink (I might be wrong here, just want to explain what the fixes probably are). Both of these will be looked at by the proper people here.

That was THREE MONTHS ago. The RSC has taken no public action to fix this. If they cared they could have:
Put out a public statement
Removed the rights link from "Open Science" articles
OR fixed the link
The most favourable interpretation I can come up with from all this is:
The RSC don't put effort into reader's rights in Open Access.

This is institutional Readerism.
"the collective failure of an organisation to provide an appropriate and professional service to readers and authors"

So I have used a different publisher (MDPI Materials, a CC-BY journal) for my seminar and I will consistently use them in future for illustrative material. Impact factor is less important than licensing for training materials.