A massive day for #animalgarden. They've made a huge technical breakthrough. They can now store all the facts from the scientific literature.
They'd been worrying about where to put the data they extracted, now that the STM publishers have blessed Content-mining. Today Mark Wainwright from the OKFN visited and told them about CKAN. It holds very flexible metadata and can also hold the data. CKAN was developed for governments to manage Open Data, but can it manage science? Mark said yes – so they had a try. But before that, Mark said, you need a name for the Datahub project.
#animalgarden? Not quite right. Panton? Again not quite right?
November 25! The November 25 revolution! The first liberated data set in CKAN. That sounded just right.
But if there is a revolution, shouldn't there be a declaration? Yes, of course. They know it by heart: "The right to READ is the Right to MINE"!
And a proper declaration need to be big and signed by everyone. So here are all our names.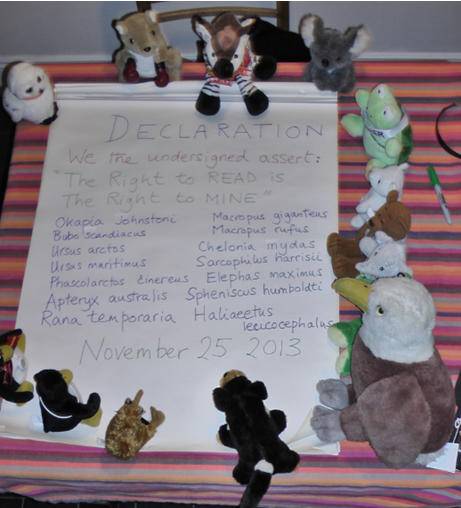 What about the data? No problem. You can see it at