[This is a first draft! Will be used for the talk and then refined].
I'm talking this morning at Kitware, a US company (SME) spun out of GE and making enormous contributions to Openness. It creates and distributes a widely used toolkit (VTK, http://www.vtk.org/ ), and the molecular visualizer and builder Avogadro . They've invited me to Clifton Park, NY and I'm launching my ideas on Liberation Software.
Liberation Software is the concept that software is a critical element of fighting the digital battle (see Eben Moglen's Guardian article). There are many things software can do:
Publication of information (my first HTTP server gave me immense power)
Discovery and linking of information
Creation of communities
Speaking truth to power (e.g. online petitions)
Today I'm going to talk about software that liberates knowledge. I'm a bit rushed because I only got my ideas together at breakfast and I haven't drawn a good diagram. I'll summarize the problems, then the liberation. There's probably a bias on scholarly publication but it's meant to be general.
Problems

Gatekeepers. An excellent example is STM publishers who create "paywalls" (usually 30-50 USD to read a single paper for a day). No rights are given and control is absolute. There are reverse walls – the difficulty of getting your voice heard.
Technological mismatch. Typical examples are binary files (sometimes encrypted). These can often be deciphered with enough effort.
Missing metadata. The information only works with a given program which "knows what the data means". Or the creator uses abbreviations on their Excel columns
Apathy. Many people don't care to make their material available at all
Lawyers, Politicians, lobbyists. By far the hardest to tackle. Organizations assert they own the info and will sue/jail people who have succeed in the earlier steps.
Solutions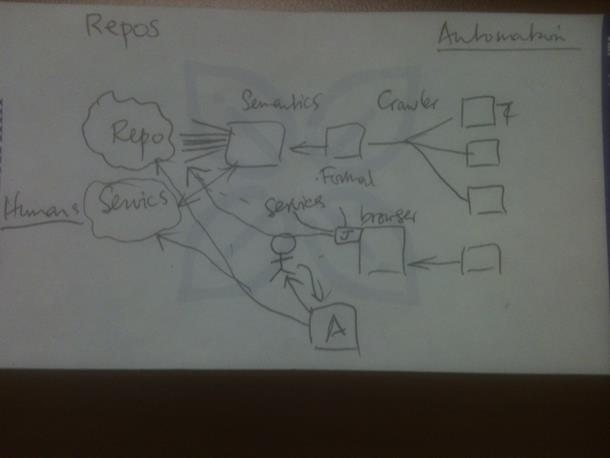 [Placeholder until I get time to draw it.]
Components :
Crawler: visits legally visible sites

Format Converter: deciphers what it finds

Semantifier: makes semantic sense out of data.

Repository: easy storage of semi-structured information (RDF/XML/Mongo, etc.)

Services: (often domain specific) addition/filtering/transformation/conversion of information (taxonomy, content-mining, annotation…)

Browser: Human interacts with information

Javascript in browser to extract and transform received information

Amanuensis: "desktop" companion providing close coupling with human. (e.g. AMI2, Avogadro). Lightweight "AI".

LinkedOpenData Cloud everywhere.

The emphasis is to transfer power from the gatekeepers to the human-amanuensis partnership.