We had a marvellous day yesterday in Perth at the invitation of Constance Wiebrands, Toby Burrows, Sue Cook and others. Constance had heard I was in AU and invited me over. Toby put md up in Trinity College. At this season Perth erupts with jacaranda blossom over the whole city. Here's the view from my room: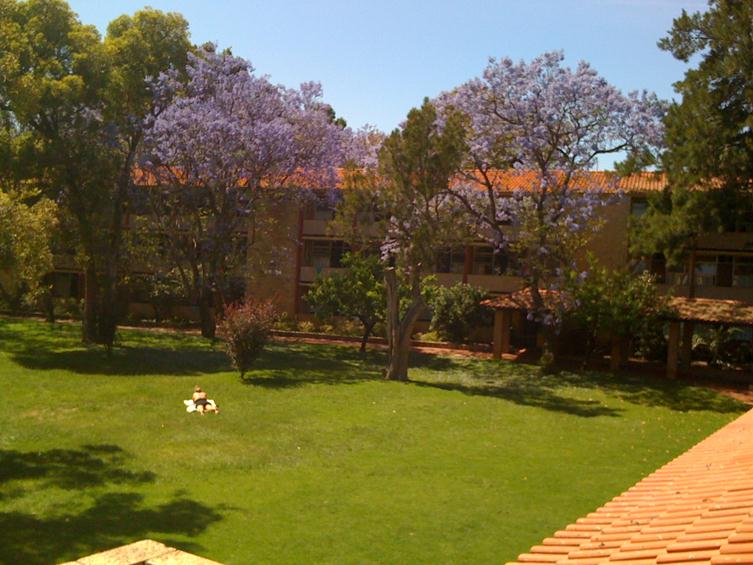 By a remarkable coincidence Cameron Neylon was en route from ZA and visiting Perth – picked up on Twitter. So we had a double bill for about 2 hours with presentations from both of us and a lot of discussion. Very good attendance with representation from several libraries.
The theme was – roughly – how can libraries react to the opportunities and requirements of the change to Open. We are all sure it is coming – it may not be pretty. I've set out some of my thoughts in previous posts and emphasized inter alia:
The world is changing very rapidly – universities must reach our beyond their walls
Young people have a different attitude to information and knowledge
A huge range of tools are software glue are within our immediate reach. Very little is technically impossible.
We must be on control of our knowledge and our metadata. If we wait for external organizations (Google, Thomson-Reuters, etc.) to develop information products for academia we will get a poor subset, without any input of control. Google has no contract with us, the readers – they could switch off Scholar tomorrow. TR does not display its methodology and makes decisions without the input and the consent of those affected. (One participant likened it to Standard and Poor's assessment of financial institutions –yes). If we really wish to use our metadata for exploration, evaluation, etc. we must create it and we must control it.
And the primary way to get what we want is – paradoxically – tto make it open
Cameron stressed the importance of frictionless networks that scale. Friction is typified by missing licences, restrictive licences, CC-NC, mailing for permission, using proprietary APIs, closed formats, etc. etc. Only frictionless scales. We need filters but at reader-side, not distributor-side. We must decide what we want to receive and discard, not have it decided for us.
Constance was keen that we explore how libraries rise to meet the challenges and opportunities. There are huge opportunities because in the era of Open – which is coming – those who lead are those who have developed the infrastructure and combine it with trust. And trust is a major asset of universities. Without attribution here are some of the ideas that emerged.
Regular meet-ups over the Perth area (there are several universities). Find out what can be achieved by scale
Reach out beyond the walls of academia. Involve the citizenry.
Get young people involved doing things that change the future of knoweldge and libraries.
Use the library facilities for hackathons – they are often ideal.
It takes courage. How does a senior librarian work with the new technology and new society? The positive is that openness is inclusive – grey hair is not a barrier (personal experience). Entrenched attitudes in senior academics is harder (and we agreed that some can never be changed). But getting out the message of change, creating persuasive arguments and material, experimenting, must be an essential part of the present and future.