The great things about a good hackathon is that you don't know what you will be doing until you get together and pool ideas and expertise. Today we have our Open culture and science hack-day. About 20 "streams" ranging from Wikimedia-editing to #openbiblio. And we are working on a project that comes out of two ideas:
Tom Olijhoek is one of the driving forces behinf @ccess – true Open Access to the scientific literature. Tom runs OpenMalaria. His current idea is that science can be influenced through the way it's funded – especially in the areas of medicine and food. Can we discover this from what appears in the public literature. And, although most published science is CLOSED, we can pick up a lot from the metadata and from the 5% of Open Access science.
In parallel we have the #openbiblio project which is building the technology to make Open Bibliography fully re-usable. Examples can be found on http://bibserver.org (technology) and http://bibsoup.net (collections of bibliography)
We're combining these in a project to scrape the bibliography from BioMedCentral (one of the few sources of Open Access publishing). Here's the team starting to make Open Access BioMedCentral BibSoup (note Gulliver the Open Access turtle):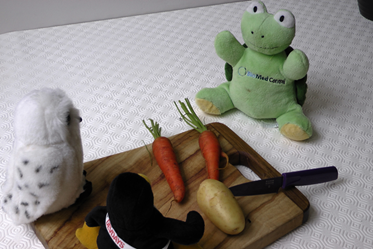 And here's the actual team: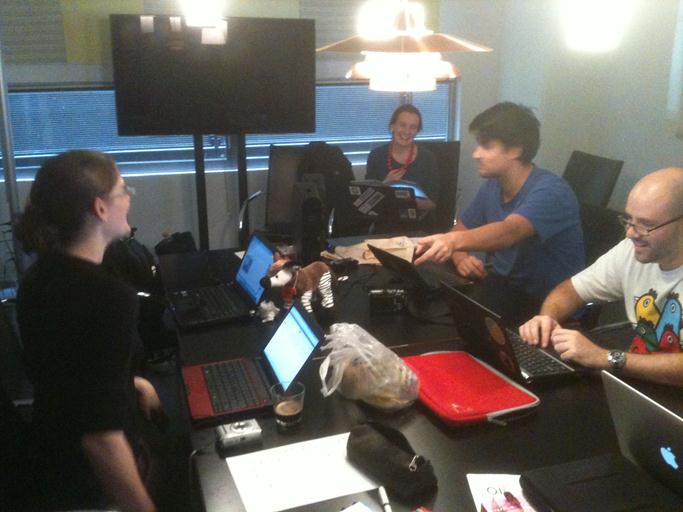 L2R: Jenny Molloy , Laura Newman, Michael Bauer (and some still at lunch) and Daniel Lombraña González (who's running the PyBossa project) and me with the iPhone. (And Chuff the OK-API).
Michael is creating the scraping and already has a chunk of bibliography. He's got a background of hacking and biomedical and is now with OKFN.
If you are reading this remotely and want to be involved we have an Ethernet pad – tweet @petermurrayrust