Shortly after blogging about Crowdcrafting (/pmr/2013/08/09/crowdsourcing-at-crowdcrafting-were-doing-antimatter-research-2/ ) there's a new application , just to show you the variety. See http://crowdcrafting.org/app/RuralGeolocator/ :
Rural Geolocator is an application for geo-referencing houses on satellite images.

The current batch of tasks is focused on Rusinga Island, an island in Lake Victoria, Western Kenya. Rusing Island is the location of the SolarMal project, which studies the potential of innovative mosquito trapping technologies for malaria control.

The geo-locations of the houses will be used to inform the project logistics and analysis of the SolarMal project.

Rural Geolocator was developed by the Public Health Computing group at the Swiss Tropical and Public Health Institute in Basel with support from Daniel Lombraña González at the Citizen Cyberscience Center.

The task is very simple – you get a satellite image and have to indicate the houses. Here's my latest (I have marked ten in the brown box and I think there are 3 more.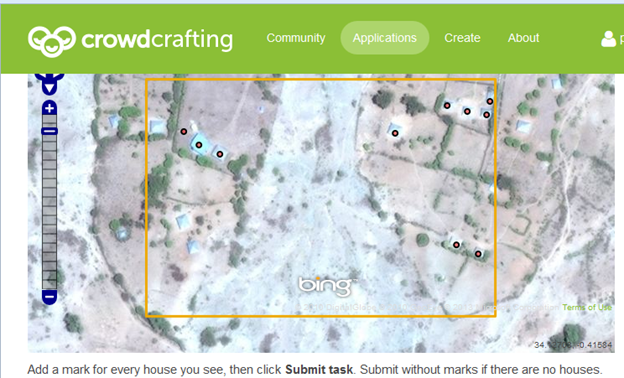 It's simple and provides an occasional useful diversion.