I have my head down and am trying to write code – to liberate knowledge (and I haven't forgotten #scholrev!) but occasionally have to break off and blog. Simply: the standard of debate (if it can be called such) in #openaccess is appalling. Either non-existent or fuelled by prejudice and ignorance. Since (a) many of the "debaters" and academics to whom we might look for clarity, fairness and guidance and (b) we are losing billions (sic) by not getting our act together.
Twitter retweeted
"An interestingly well-balanced critique of the dash for #openaccess"
Linked to http://www.psa.ac.uk/political-insight/blog/open-access-and-psa (PSA = Political Studies Association).
It was neither well-balanced nor correct. Given that #openaccess is now a matter of debate in universities we are seeing a large number of new commentators, many from Humanities and Social Sciences (HSS). This is to be welcomed as these subjects have much to offer and it is sad that they have been relatively silent up to now. However there has been a dash to publish and much of it is rubbish. A particular criticism is of the CC-BY licence (Attribution, and re-use permission for any legal purpose, by anyone), which seems to be held up as destroying academic freedom. In the last week or two the rubbish has included "CC-BY allows discussion by Neo-Nazis" (Nottingham Trent University) , "CC-BY makes possible to create dangerous drugs" and many examples of loss of control. The present article illustrates the problem.
Before we start let me point out that I am (a) a member of CC Science Advisory Board (b) a scientist and (c) a member of the Open Knowledge Foundation Advisory Board. This means I know quite a lot, and don't know a lot more. When I don't know, I don't make up answers but I post the questions on lists where others may know better.
In addition to this, the PSA has also given evidence to the RCUK call for pre-consultation and that of HEFCE. Both organisations were criticised by the Lords for their previous lack of consultation. They had both come out strongly in favour of Gold OA for all publicly funded research and the use of the CC-BY license for the copyright of that material. The PSA (along with a large number of learned societies) took the view that there had been insufficient consultation and that the CC-BY license has defects when applied to HSS subjects that lack the patents most STEM research obtains prior to publication; in other words the intellectual property of authors is insufficiently protected. CC-BY effectively means authors lose control over their product once it has been published.

This is completely wrong. Most STEM research does not obtain patents prior to publication – I'd be surprised if 1% of STEM papers were associated with patents. And patents are orthogonal to copyright (which is what CC addresses). If you want a patent you apply for it before publishing – if you announce your work publicly then it almost certainly invalidates the patent. And CC-NC-ND does not protect a patent. CC-BY has been used for many years by BMC, PLoS, and other CC-BY organs with no problems for patents. (Authors might have to decide whether to publish and forgo patentability, or to delay publication until patent rights are obtained – but this does not depend on the CC licence).
In other words, academics are expected to pay an article processing charge (APC) to a publisher of up to $3,000, and then there is the possibility of additional page charges. After that, under CC-BY they have no further claim on that work and it is up to others to commercially exploit it if they wish.

Any copyright protection is simply for the object that is licensed – not the ideas within it. In general this is not a problem in STEM where the actual paper as such is never commercially exploited (e.g republished by another publisher). The purpose of publication is to publish facts, ideas and opinions and expect others to build on them.
This includes overseas institutions, individuals and entrepreneurs. CC-BY is the product of the Creative Commons, a US organisation that was established to provide the product of research free at the point of delivery.

Although its headquarters are in the US, CC is international with a European presence http://europe.creativecommons.org/mission . It was not provided to "provide the product of research free …"
It has a liberal libertarian perspective in much of what it does. Its founders were heavily influenced by the STEM model and it fails to take full account of the different perspective in social science.

Creative Commons covers many fields of creative commons and has at least as much history of supporting creative arts as STEM: (http://wiki.creativecommons.org/FAQ#What_is_Creative_Commons_and_what_do_you_do.3F );
Creative Commons is a global nonprofit organization that enables sharing and reuse of creativity and knowledge through the provision of free legal tools. CC has affiliates all over the world who help ensure our licenses work internationally and who raise awareness about our work. Our legal tools help those who want to encourage reuse of their works by offering them for use under generous, standardized terms, those who want to make creative uses of works, and those who want to benefit from this symbiosis. Our vision is to help others realize the full potential of the internet.

Although Creative Commons is best known for licenses, our work extends beyond just providing copyright licenses. CC offers a number of other legal and technical tools that also facilitate sharing and discovery of creative works. Unlike other public legal tools, Creative Commons' licenses and tools were designed specifically to work with the web, which makes content that is offered under their terms easy to search for, discover and use. CC also offers other legal tools, such as CC0, a public domain dedication for rightsholders who wish to put their work into the public domain in advance of the expiration of applicable copyright, and the Public Domain Mark, a tool for marking a work that is in the worldwide public domain. Additionally, Creative Commons makes available tools used by scientific communities, such as standard materials transfer agreements.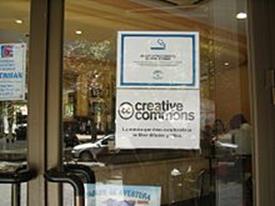 A sign in a pub in Granada notifies customers that the music they are listening to is freely distributable under a Creative Commons license. (from http://en.wikipedia.org/wiki/Creative_Commons
For example, it does not take account of third party usage. It is likely that international publishers, especially those of US journals will not take UK papers shackled with a CC-BY license, thus preventing UK academics from accessing world-class journals. It is even likely UK based journals owned by learned societies will similarly respond in order to protect their intellectual property and that of their authors

I don't even understand this. I think it is the concern that if someone publishes a scholarly article then they cannot then turn it into a book because others could do the same. If so it's possibly worth debating, though no-one can do this without fully attributing the original author.
Might as well have the Neo-Nazis here: http://www.socialsciencespace.com/2012/10/why-open-access-is-good-news-for-neo-nazis/ (Robert Dingwall is a consulting sociologist, providing research and advisory services particularly in relation to organizational strategy, public engagement and knowledge transfer.  He is also a part-time professor in the School of Social Sciences at Nottingham Trent University.)
With a CC-BY licence, however, nothing stops the group taking hold of the paper, editing it down and using it as a recruitment tool: "Famous professor says we are just ordinary people responding in a reasonable way to the problems of our community…" You cannot pick and choose users: free access for Big Pharma is also free access for neo-Nazis.

These two are excesses, but they don't get criticized by "mainstream" #openaccess. So there has been virtually no useful DEBATE on #openaccess. There have been assertions, evangelism, guesses, pontifications, and worse. The main mailing list GOAL http://mailman.ecs.soton.ac.uk/pipermail/goal/ is populated with a number of posters who are not prepared to welcome viewpoints other than their own. I occasionally post when I feel something has to be challenged, but only to try to put the record right, not because I hope for informed debate. In particular if we try to define what we are talking about we are likely to be told it's irrelevant. There are few other places to debate in a proper manner – which is why we set up http://lists.okfn.org/pipermail/open-access/ where we take #openaccess as inspired by and consistent with the BOAI declaration (which is also consistent with CC-BY and not other CC licences such as CC-ND, CC-NC). On that list we welcome constructive debate.
The problem is now that because there has been no debate it is very difficult to develop a reasonable way forward. The field is highly factional. Ignorance (especially about copyright, and licences) is frequent.
For that reason some of us are trying to build new ways of #openaccess and STM has been in the lead, with BMC, PLoS, eLife, SCOAP3 and PeerJ. They've all actively required CC-BY licences, which mainstream publishers have been dragging their heels, prevaricating, fudging, obscuring and talking rubbish. Because they know they can get away with it. They are the only ones who benefit from the mess. And they are benefitting to the tune of hundreds of millions of dollars because we don't hold them to account.
If a scientist talks rubbish then sooner or later the laws of physics or bioscience will prove them wrong. I cannot make energy from nothing. But in #openaccess you can talk rubbish, even if you students would be ashamed of you.