[This is a long post – in summary Elsevier breach licences and charge readers for Open Access. I also ask the world to verify and amplify my conclusions].
A week ago I wrote to Elsevier's Division of Universal Access about their "hybrid Open Access". Put simply, this is where authors pay Author Processing Charges (perhaps 3-5000 USD) to have their article made "Open Access". Because "Open Access" is a poorly defined term I asked Elsevier for information about their "hybrid Open Access".
My motivation is that I wish to examine compliance from the side of (a) the publisher (b) the authors, to see whether funder mandates are complied with. There is now increasing emphasis on policing this area, and this needs to be done with robotic tools. Hence I wish to examine:
Whether a paper published as Open Access complies with reasonable expectations from the authors and funders
Whether funders are getting compliance from their authors/grantees.
This is not easy and depends on having a machine-readable list of all or subsets of the published literature (perhaps 40 million documents in STM) and also knowing precisely what conditions apply to the article. Since the article can exist without the context of the publisher's web-site (or an institutional repository site) it is essential that the article carry all information sufficient to determine whether it can be redistributed, redisplayed or re-used. (Many institution repositories are seriously broken when it comes to the rights attaching to an article).
I therefore wished to get a list of all articles published by Elsevier under the hybrid scheme. Since the authors have paid so much money, I would that their articles would be made accessible (accessible means discoverable and identifiable as hybrid OA). I would expect a competent publisher to have created a public list of such articles. I would also expect the articles to be identified *in the article* as hybrid. If I had spent 3000+ USD for making my article visible I this is the absolute minimum I would expect.
Most publishers' websites are extremely bad at giving contact details for formal requests. Since I happen to know that Elsevier has a "Division of Universal Access" and I happen to know its director's name I wrote to it. Note that I regard this purely as a business transaction, similar to asking my bank for details of its policy on selling Personal Protection Insurance. Indeed , I give Elsevier the same respect and trust as I give my bank – they are providers of paid-for services, not partners or collaborators.
The director wrote back by mail and on my blog. (I use the blog as a non-repudiation mechanism). /pmr/2012/07/27/i-ask-elsevier-for-their-list-of-articles-published-as-hybrid-open-access/#comment-113189. I'll reproduce it in full, but highlight the essential parts and comment (PMR). Please read to the end as it gets worse as you go through.
"Hi Peter, and thanks for your message. Here are the answers to your 5 questions".
1. What , if any, is Elsevier's precise name for this scheme and where is it described?
Our hybrid open access publishing scheme is not currently a branded programme. We refer to these as 'sponsored articles'. You can read more about these here (http://www.elsevier.com/wps/find/intro.cws_home/open_access) and here (http://www.elsevier.com/wps/find/authorsview.authors/sponsoredarticles).
PMR: Almost every publisher has meaningless and ambiguous phrases describing "open access". "Sponsored access" is used by other publishers to mean "free to authors and readers sponsored by the journal". It is impossible to determine from these words what the state of the article is.

2. How many articles in total have been published under this scheme?

2010 sponsored article numbers are available here (http://www.elsevier.com/framework_authors/Sponsoredarticles/pdfs/sponsoredarticlesNEW.pdf) and the 2011 sponsored article numbers are available here (http://www.elsevier.com/framework_authors/Sponsoredarticles/pdfs/Sponsored_Articles_2011.pdf).
PMR: A total of about 2000 articles. Note that "hybrid Gold" is normally the necessary mechanism to satisfy funders unless there are "Gold" OA journals available.

3. What explicit licence, if any, is used on the articles?
The majority use a bespoke license which is like a CC-NC license and described here (http://www.elsevier.com/wps/find/authors.authors/sponsoredarticles_user).
PMR. I agree that this is close to a CC-NC licence, but it is not technically a licence. I am unable to verify if this information appears in the paper itself, see the much more serious concern in #4

Some sponsored articles in physics only come with a CC-BY license and in these cases the CC-BY license is indicated in the body of the article at the end just before the reference, see this example (http://www.sciencedirect.com/science/article/pii/S0168900210008910).
PMR. I find:

The "OA" logo appears to be specific to Elsevier. On following the link to "Open Access policy" I find: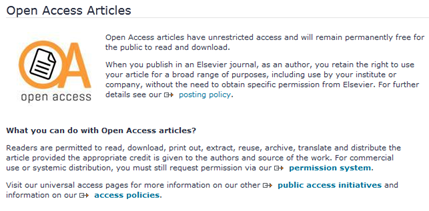 THIS IS COMPLETELY UNACCEPTABLE. The authors have purchased a CC-BY licence. Elsevier have broken this by refusing commercial re-use and distribution.

Now the body of the article:

There is no mention of Open Access in the front matter:

"All rights reserved". Anyone reading this would expect that the reader has no rights.
By this stage most people would assume this was closed access of some sort. However I have been told to look at the last page of the main text:
This is near illiterate. "It is distributed under the terms of the Creative". ? But – assuming that the key phrase is the next – CC-BY 3.0 FORBIDS Elsevier to apply restrictive clauses. If you were the authors, would you feel that Elsevier had given you service for your very large APC?
4. How are the articles labelled in the Elsevier journal (i.e. how is the licence and the Open Access information made apparent)?

There is an open access symbol and link in the top right of the article. For an example see here (http://www.sciencedirect.com/science/article/pii/S0168900207017020).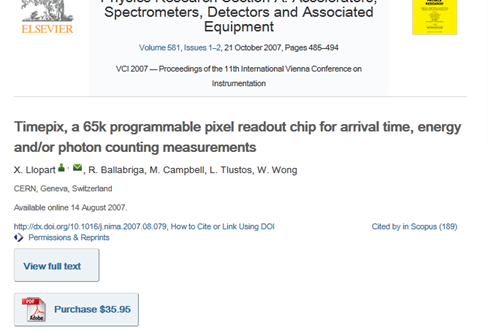 THIS IS APPALLING. This is asserted to be an Open Access article by the Director of Universal Access. And I have to pay 36 USD to read it. (I obviously cannot verify the logo as I have to pay for Open Access).

5. Where is the machine-readable list of all articles published under this scheme? I wish to download and analyze all of them.

ELS: Through your affiliation with Cambridge University you are able to text mine all our content, not only the open access articles.
PMR: This is nothing to do with my question. I wish a list of all the "hybrid Open Access" articles so I can determine how many – if any I am allowed to read without paying. Without such a list it is impossible to discover Elsevier's hybrid articles. Whether this is deliberate, or simply don't-care, Elsevier are taking tens of billions out of the academic system and giving readers little or nothing in return.
At this time we do not publish a separate machine-readable list of all sponsored articles, but I will share this suggestion with appropriate colleagues involved in our various open access infrastructure projects.
If you would like to conclude our earlier discussion about a bulk data download to facilitate your text mining, please do let me know.
PMR: You can conclude it – I cannot. I asked for permission and you failed to give it to me. My librarians have no interest in or resources to "negotiate" with you.

ANALYSIS

Elsevier's appalling practice speaks for itself. There are only the following explanations:

Elsevier break licences knowingly and deliberately charge for "open access". [Readers will remember that Elsevier also created fake journals].

Elsevier are incompetent or uninterested in running Open Access properly.

I predict that Universal Access will plead "this was an isolated mistake; forgive us and we'll correct it". Rubbish. It is not acceptable to charge people for things they have no right to charge for. It is unacceptable to break licences. Whatever the motives it shows that at best they don't care. It's morally the same as "sorry I knocked you down because my brakes didn't work."

READERS, CAN YOU HELP?

Do YOU know of any Elsevier hybrid articles?


Do they have the Open Access logo mentioned above

? Yes, it seems they do.

Do non-subscribers have to pay for them? Only some of them – we don't yet know how many (2 yes, 1 no)

UPDATE:

See Steve Pettifer's reply below (his article wasn't paywalled)

From Twittersphere "


@

andrewjpage had similar problem (charging for sponsored article), complained, now open access:

http://ow.ly/cKtZ0

"

So there are at least two examples of Elsevier charging for Open Access – and I'd be surprised if there weren't more.