Those of us brought up in the Abrahamic tradition know the story of "the mess of pottage" – the phrase the King James bible uses for the transfer of birthright from Esau to Jacob. If you don't know the story , it's beautifully described in Wikipedia (http://en.wikipedia.org/wiki/Mess_of_pottage ). Here's the introduction and a figure:
A mess of pottage is something of little value carelessly exchanged for something of great value, alluding to Esau's sale of his birthright for a meal of lentil stew ("pottage") in Genesis 25:29–34. The phrase connotes shortsightedness and misplaced priorities, the exchange of something immediately attractive for something more distant and perhaps less tangible but in the last analysis infinitely more valuable.

I'll get to the point in a minute, but first an adventure in Springer Images. And later some Questions for Springer.
Reader: How do I know I have the right to post that figure?
PMR: Because it's in Wikipedia.
Reader: What!!! Wikipedia isn't peer-reviewed and it's free so it can't be authoritative.
PMR: The peer-review on the rights of any artefact in Wikipedia is scrupulously peer-reviewed.
Reader: Even better than the peer-review of rights in Springer Images?
PMR: I only know about WP – SI doesn't say anything about how it reviews rights. You will have to form an opinion.
Reader: *I* can't help with that. Can you?
PMR: OK let's try. Here's an image: http://www.springerimages.com/Images/Chemistry/1-10.1007_s00894-005-0278-1-3 .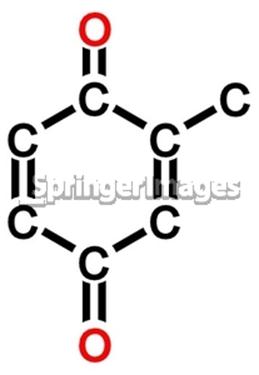 "This image is copyrighted by Springer-Verlag.

The image is being made available for non-commercial purposes for subscribers to SpringerImages. For more information on what you are allowed to do with this image, please see our copyright policy. "

Reader: But you can't copyright a chemical formula?
PMR: Yes you can. Springer have done so and they have told us how carefully they are tackling rights on SI.
Reader: Who is the author?
PMR: Doesn't say.
Reader: But don't you have to acknowledge the author?
PMR. It seems not, if you are Springer.
Reader. So the author gives up their moral rights to Springer.
PMR. Looks like it.
Reader: Is it from a journal?
PMR. Doesn't say where it comes from.
Reader. Isn't part of academic practice to acknowledge and credir authors?
PMR: Not in Springer Images.
Reader. I wonder if the author knows about this. I bet S/he wouldn't be happy!
SHAZAM! Abracadabra! The author appears… It's
PMR!!!
Reader. That's your creation?
PMR. Yes
Reader. And you handed it over to Springer so they could claim it as their own, take your name and sell it. How much do they sell it for?
PMR. It would cost *me* 60 USD to use it for teaching.
Reader. Even though you created it?
PMR. Yes. It's not mine any more, it's Springer's.
Reader. So every time you put up a picture of methyl-benzoquinone you are violating copyright?
PMR. If it's that picture. I might escape if I redrew it.
Reader. That's a lot of work.
PMR: Cheaper than 60 USD.
Reader: WHY did you hand over all this to Springer? You've sold your copyright for a mess of pottage.
PMR. I didn't realise what I was doing.
Reader. You didn't read the fine print?
PMR. No. I trusted that this was a reasonable transaction. I thought I was just giving Springer the right to publish exclusively, not own all my scientific images.
Reader. You should know better. When was this?
PMR. 7 years ago.
In Title: A global resource for computational chemistry; Author:Murray-Rust, Peter; Publication: Journal of Molecular Modeling; Publisher: Springer Date: Nov 22, 2005 Copyright © 2005, Springer-Verlag (https://s100.copyright.com/AppDispatchServlet?publisherName=Springer&imprint=Springer-Verlag&publication=1610-2940&title=A%20global%20resource%20for%20computational%20chemistry&publicationDate=2005-11-22&author=Murray-Rust,%20Peter&contentID=1-10.1007_s00894-005-0278-1-3&volumeNum=11&issueNum=6&openAccess=false&orderBeanReset=true&orderSource=SpringerImages )

Reader: Were there other authors?
PMR: Yes, But Springer doesn't thinks they need to be listed.
Reader: So what did you get?
PMR: I (and my authors, one of whom insisted we should use this journal as he was on the editorial board) got a free publication in a peer-reviewed journal.
Reader: So I can read it?
PMR: No. Free-to-publish. I'll search on the web:
http://www.bibsonomy.org/bibtex/2b7a349ee856eca19c777187547d5f4c6/fairybasslet
A global resource for computational chemistry


by: Peter Murray-Rust, Henry Rzepa, James Stewart, and Yong Zhang


In: Journal of Molecular Modeling, Vol. 11, Nr. 6Springer Berlin / Heidelberg (2005) , p. 532-541.
Reader: Why don't you show the Springer Site?
PMR: Because when I put in the title and authors it doesn't come up in Google.
Reader. So Springer aren't really marketing it, are they?
PMR: It's 7 years old. Why should they? The libraries will still subscribe every year.
Reader: Because it's a valuable journal. What's the impact factor?
PMR: 1.871. The third decimal point seems to matter.
Reader. Is that high?
PMR. Not particularly. Won't get me promotion. But I simply wanted to publish my work so others can read it.
Reader: Can they?
PMR: If they are in a rich university which subscribes. YOU will have to go to http://www.springerlink.com/content/p72515376u538203/ and pay 35 Euros. For one day.
Reader: What's that in dollars?
PMR: Haven't listened to the news today. If the Greeks vote conservative probably about 50 USD.
Reader: You've had 5 Citations! In 7 years.
PMR: Google says 10.
Reader: How can Springer and Google differ by a factor of TWO?
PMR: Citations aren't a scientific measure – they are a matter of political negotiation by publishers.
Reader: So you have given away all your work for an impact factor of 1.871 and 7.5 citations.
PMR: You are forgetting the peer-review.
Reader: Is Springer's OK?
PMR. In this case yes (I may even have been on the editorial board then – I have since resigned in protest against mislabelling).
Reader: Better than PLoS? Or other Open Access journals.
PMR: NO. No better, no worse. Peer-reviewers attempt to give good value whoever they are reviewing for. Except some of us won't do it at all for Toll-Access.
Reader. OK. Let's look at the copyright transfer agreement. YOU obviously didn't!
PMR. Actually I suspect I never signed anything at all. I think Henry Rzepa may have sent the paper off. I don't remember.
Reader. Can othe authors sign over YOUR copyright?
PMR. Not in most jurisdictions. But Springer seems to claim it anyway.
Reader. I've found: http://www.google.co.uk/url?sa=t&rct=j&q=&esrc=s&source=web&cd=1&ved=0CFMQFjAA&url=http%3A%2F%2Fwww.springer.com%2F%3FSGWID%3D3-102-45-69724-0&ei=nOfeT9WTMszu8QPO25WgCw&usg=AFQjCNGHyqV6tb6hj2KcXP3YQ9hSwZHBwQ&sig2=Y_nYeNqFHmCTIkmWz2ocMA Is that the form?
PMR: I've got a file called 57434_CTS Format_T1.pdf It starts:
The copyright to this article is transferred to Springer (respective to

owner if other than Springer and for U.S. government employees: to

the extent transferable) effective if and when the article is accepted for

publication. The author warrants that his/her contribution is original

and that he/she has full power to make this grant. The author signs for

and accepts responsibility for releasing this material on behalf of any

and all co-authors. The copyright transfer covers the exclusive right

and license to reproduce, publish, distribute and archive the article in

all forms and media of expression now known or developed in the

future, including reprints, translations, photographic reproductions,

microform, electronic form (offline, online) or any other reproductions

of similar nature.

Reader: It talks about "the article". It doesn't talk about extracting the images, copyrighting all of these, stamping them "Springer Images" and reselling them to everyone including the author.
PMR: No, it doesn't
Reader: But does it give Springer the right?
PMR: I am Not A Lawyer. Springer pays lawyers. So Springer can probably win a case in court. I can't afford to find out.
Reader. But's that's not fair!!
PMR: Fair?? This is business. Springer are our "partners" so we have to accept everything they say and do.
Reader: You didn't get much for your mess of pottage, did you?
PMR: No.
QUESTIONS FOR SPRINGER:

Does the copyright transfer form in 2005 give the right for Springer to extract, stamp as SpringerImages, recopyright, and resell images? If so please reproduce it and make the case.

Does Springer assert copyright over chemical formulae extracted from articles. If so what is the legal justification for this?

Does Springer have the right to remove provenance from, and ignore authiorship in Springer Images?

Does Springer assert copyright over individual tables of factual data? Under what legal jurisdiction?

I have posted these questions to Matt Cockerill in BiomedCentral as I know and respect Matt and he has been answering questions on behalf of Springer generally.
ADDENDUM: In this copyright form (copyrightIncs.pdf) for "Lecture Notes in Computer Science":
http://www.google.co.uk/url?sa=t&rct=j&q=&esrc=s&source=web&cd=2&ved=0CGYQFjAB&url=http%3A%2F%2Fwww.springer.com%2Fcda%2Fcontent%2Fdocument%2Fcda_downloaddocument%2Fcopyrightlncs.pdf%3FSGWID%3D0-0-45-154182-0&ei=2_LeT9jaB8qO8gOv-rTGCw&usg=AFQjCNGIqEDAa4JGXh7hI6AzPvkShTLv1w&sig2=I-7f7hnRW3Ml7vMUiPFBCQ
We find:
Author warrants that he/she has power to grant the rights in accordance with Clause "Rights Granted", that he/she

has not assigned such rights to third parties, that the Contribution has not heretofore been published in whole or

in part, contains no libelous statements and does not infringe on any copyright, trademark, patent, statutory rights

or proprietary rights of others, including rights obtained through licenses; and that Author will indemnify Springer

against any cost, expenses or damages for which Springer may become liable as a result of any breach of this

warranty.

Again IANAL but my simple translation is:

"If a third party sues Springer for copyright infringement, then THE AUTHOR will have to pay damages." I'm not even sure that's legal in the UK.