It's been an exciting week in Pantonia. I have been very active with our new Panton Fellows (http://science.okfn.org/2012/04/03/introducing-our-panton-fellows/) Last Monday Ross Mounce came over to Cambridge and we looked in depth about liberating information about phylogenetic trees. This is exciting and keeps me up at night and active on train journeys. And yesterday I took the train to Oxford to visit Sophie Kershaw who's putting together a radically different course for Graduates, with emphasis in reproducible computing. I'm deliberately downplaying both of these here, as they'll be telling you all about what they are doing.
Part of yesterday was an evening meeting run by Jenny Molloy – a new Open Science groups with about 12 of us in the Oxford eResearch Centre (OeRC) where we met Dave de Roure who took us out the dinner in the Royal Oak. While there we discussed in some depth what need to be done for text-mining including Diane Cabell and Dave Shotton. It's really great to see critical mass in this way. I will have a LOT to write about textmining.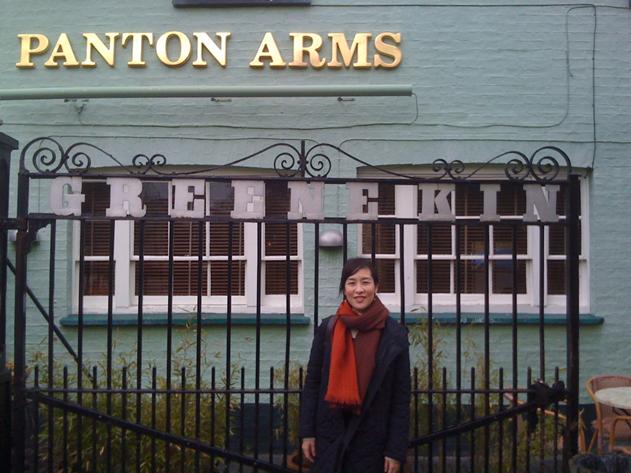 So today I met with Ayumi Koso (above) from Tokyo. Ayumi works with the Japanese government in Tokyo on the National Bioscience Database Centre (NBDC). She has already translated the Panton Principles into Japanese (http://pantonprinciples.org/translations/#Japanese ). She's staying in Cambridge and so today has a chance to meet some OKF people. Here's our visit to the Panton Arms, preceded by a visit to Hinxton/Sanger Centre to visit Tim Hubbard (OKF advisory). And this afternoon Laura Newman will be coming round to meet.
I am really fortunate to be living in the middle of all this.
(We've decided today that the Panton hashtag is #pantonscience)