#semphyssci
I am editing the video material from our Semantic Physical Science symposium, and the first is my introduction (http://vimeo.com/35169794, ca 10 mins). This is partly because it's short (so less technical hassle – though more editing) and partly because I can give myself permission, while I am still waiting for other speakers to give the OK. [All talks WILL be mounted, and all will be Open Knowledge Definition compliant (CC-BY 3.0, Creative Commons Attribution). This means that anyone can do anything with them, including cutting snippets and re-using them. Even (especially) for political purposes.] Here M.I.T.-bear strikes a blow for freedom (about 8 mins into the video)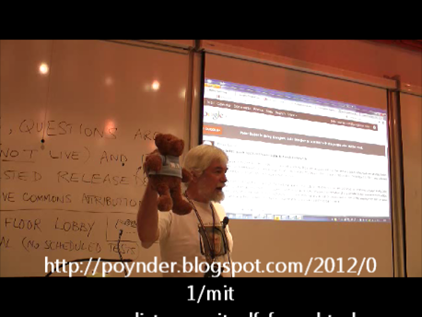 NOTE: There are a few frame drops, interestingly on the titles. Maybe a more consistent background will help. (You haven't missed anything)
My video is complex because it contains
Hello Participants and Hello World
The purpose of the symposium – to hand over 15 years of work to the world scientific community in an Open Manner
Tribute to my colleagues and funders
Context of semantic science
Political barriers to be overcome (ca 8:00 mins into video). Here M.I.T-bear strikes a blow for freedom against RWA/HR3699. Also PMR expresses his views on the proposed legislation.
Here are some of the links I mention – it's easier to follow them here
pmr.ch.cam.ac.uk/wiki/Presentations
pmr.ch.cam.ac.uk/wiki/Visions_of_a_%28Semantic%29_Molecular_Future
jcheminf.com/series/semantic_mol_future
jcheminf.com/content/3/1/37
pmr.ch.cam.ac.uk/wiki/Group_Members
pmr.ch.cam.ac.uk/wiki/Projects
blueobelisk.org
quixote.wikispot.org/
lbm2011.biopathway.org/index.php?p=keynote_speakers
lbm2011.biopathway.org/index.php?p=technical_program
pantonprinciples.org/
plus.google.com/u/0/109377556796183035206/posts/L6QNRbt4S8x
michaeleisen.org/blog/?p=846
guardian.co.uk/science/2012/jan/16/academic-publishers-enemies-science
poynder.blogspot.com/2012/01/mit-press-distances-itself-from.html
vimeo.com/34259668
and here is the programme. I am intending we post all of these, but it's a lot of time experimenting with video conversion.