By a series of happenstances (which I might explain later) I've been asked to do a short presentation at a prestigious event – Serpentine Gallery Garden Marathon (http://www.serpentinegallery.org/2011/08/garden_marathon.html )
Garden Marathon
Saturday and Sunday
15-16 October 2011

Saturday 15 October 12noon – 10pm

Sunday 16 October 11am – 7pm

The Serpentine Gallery Garden Marathon is the sixth in the Gallery's acclaimed Marathon series. This two-day event is an exploration of the concept of the garden. A product of the creative encounter between the man-made and the natural, between order and disorder, the garden can offer productive metaphors for the interactions between human life and time, care, thought or space.

The event is directly inspired by the Serpentine Gallery Pavilion 2011, designed by Peter Zumthor. The encounter of architecture and garden creates a contemplative space that is both set within – and meditatively separated from – the wider surroundings of Kensington Gardens.

Participations will range from the fields of horticulture, design and architecture to explore the creation of gardens and their spatial, urban and scientific importance, through to works by artists and readings by poets and writers exploring the significance of the garden in our experience of the world.

Participants include:
Etel Adnan, Brian Aldiss, Maria Thereza Alves, Rosie Atkins, Yto Barrada and Sean Gullette, Gianfranco Baruchello, Gerry Bibby, Stefano Boeri, Andrea Branzi, John Brockman, Pablo Bronstein, Jake Chapman, Hélène Cixous, Pascal Cribier, Adam Curtis, David Deutsch, Elizabeth Diller, Jimmie Durham, Marcus du Sautoy, Patrick Eyres, Hans-Peter Feldmann, FIELDCLUB, Sophie Fiennes, Adriaan Geuze, Jef Geys, Dominique Gonzalez-Foerster, Dan Graham, Rodney Graham, Fritz Haeg with Denise Withers, Zarina Hashmi, Will Holder, Jennifer Jacquet, Charles Jencks, Koo Jeong-A, Alison Knowles and Meghan DellaCrosse, Pablo León de la Barra, Jonas Mekas and David Ellis, Catherine Mosbach, Christian Philipp Müller, muf architecture/art, Silke Otto-Knapp, Philippe Parreno, Dan Pearson, Giuseppe Penone, Julia Peyton-Jones, Alice Rawsthorn, Carissa Rodriguez and Avena Gallagher, David Rowan, Peter Saville and Anna Blessmann, Rüdiger Schöttle, Richard Sennett, Bas Smets, Paul Smith, Something & Son, Susan Stenger, Corin Sworn, Wolfgang Tillmans, Mierle Laderman Ukeles, Günther Vogt, Sophie von Cundale, Alex Waterman, Andrea Zanzotto and Qiu Zhijie.

Why me? I'm not really a gardener and certainly not an artist but it sounds fun. I'm part of a 45-minute session – on a certain type of garden – and I'm kicking off with a 5 minute slot.
Brian Aldiss?? Gulp. And gulp, gulp, gulp
So I thought I would prepare a show and tell a little fairy story using Powerpoint.
Yes, you heard me right – Powerpoint. I'm using it to tell a story with images at 15-second intervals. It's good at that and wouldn't event upset Tufte. Here's a picture that Tom M-R took on Sunday: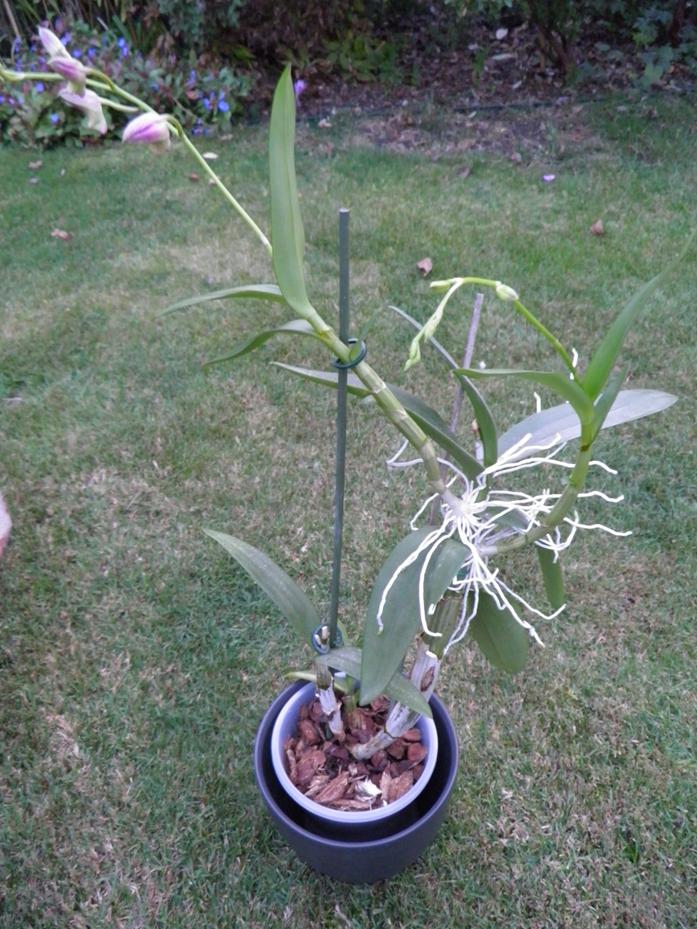 It's a Dendrobium spp. (If you know more, please let me know) I picked up as a £1 remainder as a late Christmas present. I think it lost its label so I don't know the species. The point here is that it is creating copies of itself. It's part of the story.
The story has to be told in 5 minutes so I am using the photographic novel technique, with snapshots and speech balloons. Common in some newspapers and magzines. Tom M-R did the first photoshoot and now I am adding speech balloons. A typical picture is: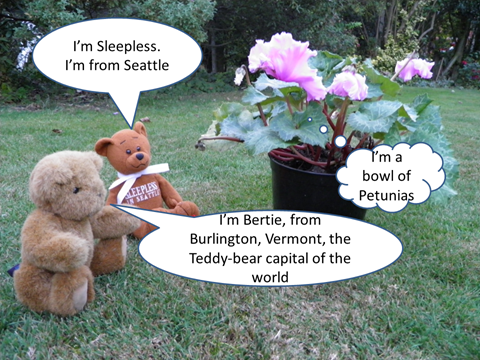 This is a rather fun medium –
(Yes, I know it's a cyclamen. The Hitchhiker's Guide to the Galaxy (http://en.wikipedia.org/wiki/List_of_minor_The_Hitchhiker%27s_Guide_to_the_Galaxy_characters ) explains the importance of a bowl of petunias. Perhaps cyclamens can also think).
So although I will be creating the 5-minute photographic version, I'll also try to write instalments on a roughly daily basis. Because it's a first draft I'll think of things as I go along and there will be little attention to the dramatic unities (or anything else). The draft will explain some of the things in the photographic novel and add some suspense at the beginning. So if you know the ending (I don't), don't give it away.