The momentum of "Beyond the PDF" continues and we are planning a hackfest in Cambridge in March to build scholarly publishing tools. I floated the idea yesterday http://groups.google.com/group/beyond-the-pdf/browse_thread/thread/af2e6a4d43c361f8 (one of the many discussion threads you can read). The details are coalescing to the following:
Martin , Peter and others (including me) formed a "Writing" group as part of BtPDF and came up with a (complete) design for scholarly authoring (on the diagram BTPDF is code name for the system)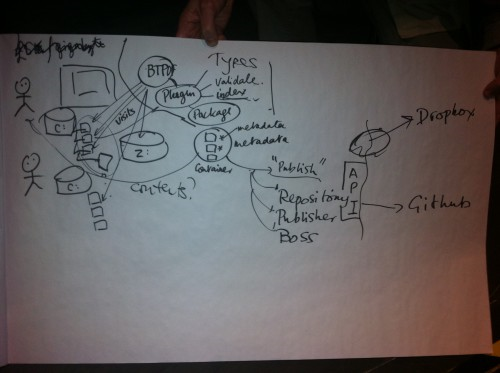 (Copyright PMR, CC-BY; used without explicit permission of the author).
We believe that we have enough open source tools, volunteers and service providers to create a compelling prototype. So during about 11-20 March there will be intense activity in Cambridge putting it together. The rough timetable is:
9/10/11 Mar PT arrives
12-13 Hackfest in Chemistry dept
14-18? Martin arrives. Free-form hacking with members of PT, MF and members of PMR group. Visitors welcome in reasonable numbers
19 (Sat) informal hack day. Depends on numbers, probably not in chemistry. Maybe in the Panton (which we think will have wifi). Maybe in the Open Knowledge Foundation. We can't use the Centre as it's science week and there are zillions of budding young scientists in the Dept.
20 Integration Hackfest in UCC (if it makes sense). Pub at lunch, evening …
Attendees from last hackfest included Ben O'Steen, Rufus and random OKF'ers, Chris Gutteridge and Dave Flanders.
Anyone is welcome but let us know beforehand for safety/security (it's a chemistry dept). As we get possible attendees we'll publish a list. This is not a sleep-over hackfest (it's a chemistry dept) but there are lots of good pubs.
It is a hackfest, not a tutorial. So be prepared to get your fingers dirty. You don't have to be a coder – we'll welcome:
Coders
Integrators (e.g. people who can work plugins, repos, OAI-PMH, RSS, etc.)
Content providers (Open of course)
Documentation
Packaging and distribution
Evangelism
Funders
And more
The last hackfest was 2 days and the achievements were sensational. This one will be even more so. We'll provide geek food. The only problem is burn-out.
We are calling this "Scholarly HTML". It will bring power back to the authors. Too much of our scholarly communication is controlled by digital neo-colonialists. HTML was and is an agent of revolution and democracy. This hackfest is in that tradition.