#pmrhack
The contents and activities of our hackfest (/pmr/2010/12/23/pmr-events-at-unilever-centre-january-1516-and-17/ ) will be determined by YOUR inventiveness, not our planning. So here's a typical example of a mashup created in 24 hours. It comes mainly from Dave Murray-Rust (http://mo-seph.com) with minor inputs from the rest of the soporific or slightly sick family.
Dave has found http://www.layar.com which "layers" 3D objects (as Wavefront files) onto reality. It relies on a modern phone (mine isn't – it's a year old) which must have a compass and GPS as well as accelerometers. The phone "knows" where it is, and in which direction it's pointing . If a virtual object is within range and the field of view it's shown on top of the optical display. Here's Layar's example: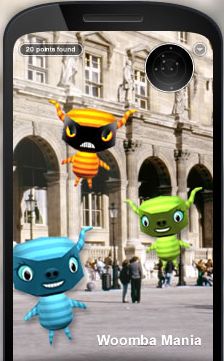 The animalcules are built of triangles with material properties and are located somewhere along the current line of sight. All you need to do is walk round the locality and keep orienting you phone and you should be able to locate them.
So we've done the same with molecules. Here's one of the first examples – it's "in our garden". If we walked to the other end of the garden we'd see the other side!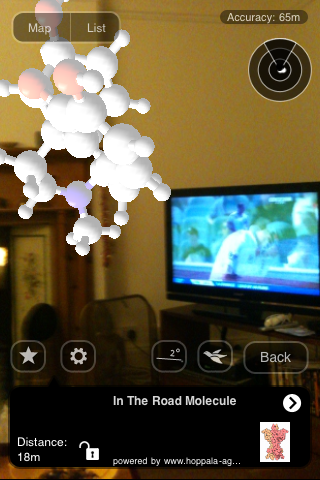 For the chemists, what is it? (We hope to brighten the red and blue atoms later).
To create this we need a wavefront file:
QUESTION. Which Blue Obelisk software can create Wavefronts of molecules?

QUESTION. Which readers/volunteers/attendees are able to use Layar Software? Our current guidelines are iPhone >= i3gs or 4 and android >= 1.5
QUESTION: Are there Layar or other augmented reality hackers who'd like to help. You don't need to know any chemistry.
QUESTION: Can you think of a fun game? At present we plan to locate famous molecules on famous places in Cambridge and see if people can work out the connection (some will have a JMR and PMR theme).
We hope to be coming up with a whole set of ideas for the hackfest so pleaes start thinking now if you want to be involved. Nothing is out of scope (barring legality and contractual law – i.e. we cannot use actual scientific content from Closed Access journals).