#jiscopenbib
Our local supermarket is now accessible by a splendid new bridge over the Cam (they paid for part of it – and every little helps). There's lots of exciting things here – the Museum of Technology (Victorian sewage pumping station – well worth a visit), the boaties, some classic 1960's industrial architecture, our mediaeval church (St Andrews), etc. Here's my mobile phone photo: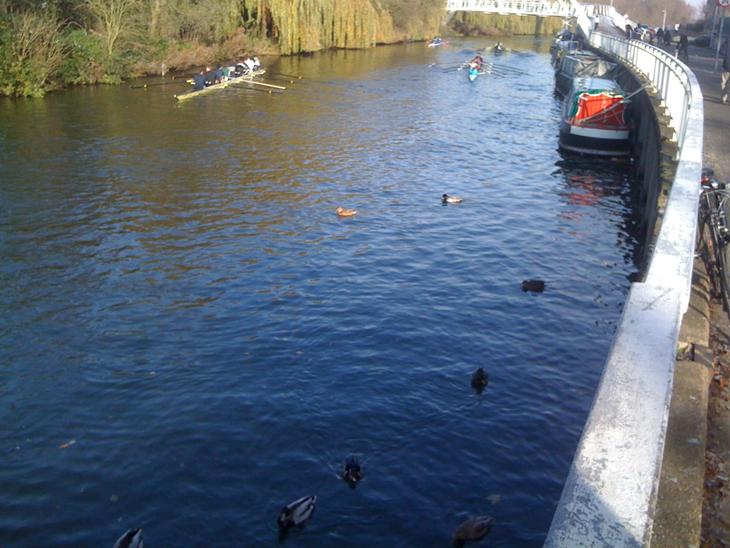 But the reason for this post is the duck at (0.5, 0.1) – It's a Wood Duck (aix sponsa) and they are extremely rare in Britain. (Before you get excited I suspect it's an escape – see http://www.wildaboutbritain.co.uk/forums/british-birds/23548-wood-duck-cambridge.html from about 3 years ago). Here' my best photo – confirming the identification, I hope.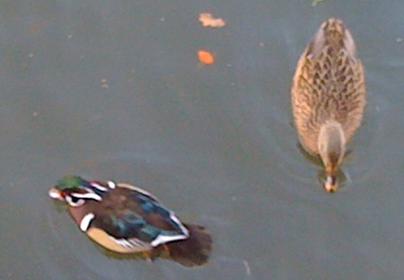 So I turned to a wonderful book published 34 years ago. Here's a photo of my copy. (I am claiming "fair use" – not that that is relevant in the UK – for having photographed the cover as I want to make a relevant point).
e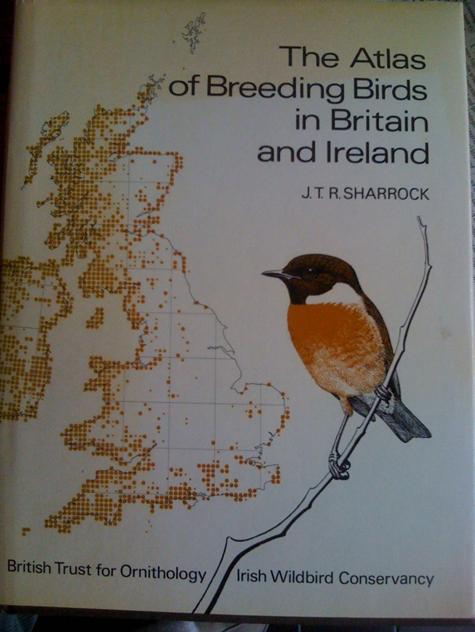 It's got records for every 10 km square in the UK for all breeding birds (the one shown is a Stonechat (Saxicola torquata)). You can see how it's clustered round the West of the country. So, is this book in the BL's bibliography? Its ISBN is 0 903793 01 6 as printed in the front matter. It's © British Trust for Ornithology and was First published in 1976. Can I confirm the ISBN?
One Wikpedian agrees (http://en.wikipedia.org/wiki/Hawfinches_in_Britain) . I can also find it on this site (http://www.abebooks.co.uk/search/sortby/3/an/Sharrock+/tn/+Breeding+Birds+Britain+Ireland+ ) which gives this ISBN, but also has several others for the same book:
(ISBN: 0856610186 / 0-85661-018-6) [Date 1976] and (ISBN: 9780856610189) [Date 1980] and
    The Atlas of Breeding Birds in Britain and Ireland (ISBN: 9780856610189)
J.T.R. Sharrock
Book Description: British Trust for Ornithology, Tring, 1976.
If I search for it on Bibliographica I get 6 entries all pointing to 0856610186:
The atlas of breeding birds in Britain and Ireland

by Sharrock, J. T. R. (John Timothy Robin)
Includes bibliographies and index.
I can understand that a 1980 reprint could have a different ISBN. (And I am not confusing this with the later study:
http://www.amazon.co.uk/Atlas-Breeding-Birds-Britain-Ireland/dp/0856610755
by a different author).
So my book has a different ISBN from the one in the BL's entries in JISC Openbib. And there are at least 4 identifiers for the "same book".
Any enlightenment welcomed.
UPDATE

My physical book has a different ISBN from the British National Bibliography. My guess is that the BNB has a pre-publication one. I've also learnt that there are ISBN-10 (10 digits) and ISBN-13 (13 digits). The 10-character string seems similar but not always identical between the two. And, As I am told, Welcome to the world of ISBNs.
Maybe the world can help…