#jiscopenbib
I've posted recently on my Wow! Moment on seeing the British National Bibliography realeased in RDF by JISC and OKF. See http://lists.okfn.org/pipermail/open-bibliography/2010-November/thread.html which already has about 15 posts in less than a day. But isn't the BNB (BTW do not confuse this with DNB http://en.wikipedia.org/wiki/Dictionary_of_National_Biography) just a collection of what books the BL contains? Why is that so important? Can't I just ask them whether they have got a first edition of Lady Chatterley's Lover?
This is the first time that I have "searched for a book" other than to buy a specific one or read a specific one. And what you get back from the BNB is not "a book". You get a local graph in scholarship space. Times, places, events, comments, comments on comments… I had NO idea that so many books have been written about LCL. I do remember reading one of Lawrence's works at school where he discussed LCL and he also had paintings of nudes which broke the then convention by having obvious public hair. I don't think the paintings are hve4ry highly regarded now, but who knows? Anyway the books in the BL have doubtless got Lawrence's illustrations. And the BNB will tell us which books actually have illustrations. But that's just for starters.
Here's some of the traffic:

But is it reliable?  I looked up the book I wrote (Presenting XML, SAMS

Net, 1997) and find that it claims it was written by Laura Alschuler.

How did that happen?

Richard

--

Richard Light

And a few hours later:

Richard

I've investigated this issue. As William points out, this has to do with the source data, not the RDF/XML representation or the conversion.

The record you found was created prior to publication for the British National Bibliography (BNB), on the assumption that it would be published in the UK and would be part of the Library's legal deposit intake. It may worth pointing out that records created prior to publication, on the basis of information provided by the publisher, sometimes contain inaccurate data.

The item was however published in the United States and was ineligible for the BNB. The BL subsequently purchased this item; this has been catalogued and correctly attributed. When I searched our "Search our catalogue" under the title "Presenting XML", your book was the first hit.

http://searchbeta.bl.uk/
We will take steps to delete the incorrect record from our catalogue but it will remain in our rdf/xml dataset until we update this data. William may want to delete it from his version of our data set.

Hope this helps.

Corine

*********************************

Corine Deliot

Metadata Standards Analyst

The British Library

Boston Spa, Wetherby

West Yorkshire LS23 7BQ

e-mail: 

corine.deliot at bl.uk


			
*********************************

So there's an error in the BNB! Well we all know there are errors. All human collections of metadata contain errors.  We've found one – and the curators has responded immediately. So we've got an immediate opportunity and questions

How do we report this?


Is there a role for crowdsourcing? Would YOU like to help improve  the country's Bibliography?


Should the record be deleted? My own view – see list is that one should not delete records but obsolete or annotate them. Deleted records are invisible (but follow the list!)

So Richard replies:

It may worth pointing out that records created prior to

>publication, on the basis of information provided by the publisher,

>sometimes contain inaccurate data.

Ah: that was probably the person they _wanted_ to write the book 😉

Fascinating. Publishers do actually publish catalogue entries for books that have not yet been written. Or which are at a very early stage.

And Will Waites again:

The cleaned record, which I would agree should not be deleted but

superceded, can be retrieved as


				

http://bnb.bibliographica.org/entry/GB97W9726.rdf


			
So what do we do about this? If it won't appear in further corrected

data from the BL, we should mint a new URI for it. This might be

directly in bibliographica.org. The identifier/slug shouldn't be used

because that's the BNB identifier. Easiest thing is just to make a

hash.

So if you do a search now you'll see two records for that book, the

incorrect one from the original data and a hand-made one based on that

record and what I could easily find with google.

So the new record is at:


				

http://bibliographica.org/entry/c4bb7da2c60413acc06f2369746da92b


			
(anyone with a suggestion about how to make better identifiers please

pipe up).

And now Kingsley, who runs Openlink / Virtuoso – they provide the backing Triplestore free to the project. In  fact I think they provide free triple storage to any open project. So do others like Talis.

William,

Congrats!

Next step is Data Wiki dimension, courtesy of WebID. This enables group

maintenance of data i.e., someone spots an error, makes a change e.g. in

their own named graph, post data space management approval, changes go

to the main graph, if need be.

Anyway, great stuff! The foundation context for Data Wikis is now taking

shape :-)

--

Regards,

Kingsley Idehen    

President&  CEO

OpenLink Software

Web: 

http://www.openlinksw.com


			
Weblog: 

http://www.openlinksw.com/blog/~kidehen


			
Twitter/Identi.ca: kidehen

So this is much more than a catalogue of what's in the BL. It's a living piece of this century's scholarship. It's global. It's Open. It's dynamic.
Here's Will's new entry at Bibliographica (http://bibliographica.org/entry/c4bb7da2c60413acc06f2369746da92b ). [Don't be frightened by the UUIDs – you'll come to love them just like URLs): I can't paste the format into this , it looks like: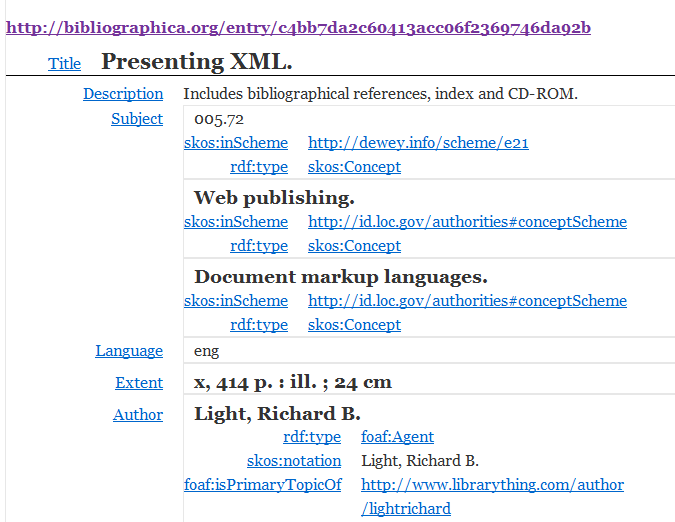 And if I follow the hyperlink at the bottom I find out all about Richard. (I've met Richard – one of the seminal influences in XML. So I'll show this page – and who knows – you might want to read his other books!
Richard Light

Top members (works)

BrianKelly (1), webfocus (1), adman (1), jtauber (1), terryzman (1), zencat (1), EH_curators (1), goobysmootcher (1), travelinlibrarian (1), semantico (1), bookdrop (1), bstiekes (1), tdobias (1) — more

Member favorites

Members: None

So more Wow! I now know that Richard is interested in Museums! So (now) am I. Brian Kelly has a copy of Richard's book. (I might even have one if I rummage). So the world expands at every node. It's not a book collection it's a Hyperbibliography.

POSTSCRIPT: I had hoped to be meeting more people in the Library community at http://www.library.manchester.ac.uk/scl/ and presenting this development and getting ideas. But the program has been rejigged and I am no longer going. I may be able to create my own library event in January – more later about that.