Nick Day's CrystalEye system can e thought of as an open, robotically managed, robotically quality-reviewed, data, overlay, "journal". It's not a conventional journal, but it ticks most of the buttons. And it publishes a new set of information each day. So I have subscribed to some of the RSS feeds on the site. There are many hundred – you can be alerted by journal, by chemical category, by bond type, by quality, etc. And they come naturally into the Feedreader. Here's one from today. (It caught my eye because I worked on copper N,O chelates during my doctorate and it's one of my favourite elemnts. Here's what the feed delivered. No frills, no adverts, no javascript. Just simple science:
Summary page for crystal structure from DataBlock I in CIF xu2383sup1 from article xu2383 in issue 2008/01-00 of Acta Crystallographica, Section E.
and here's what you get if you follow the link: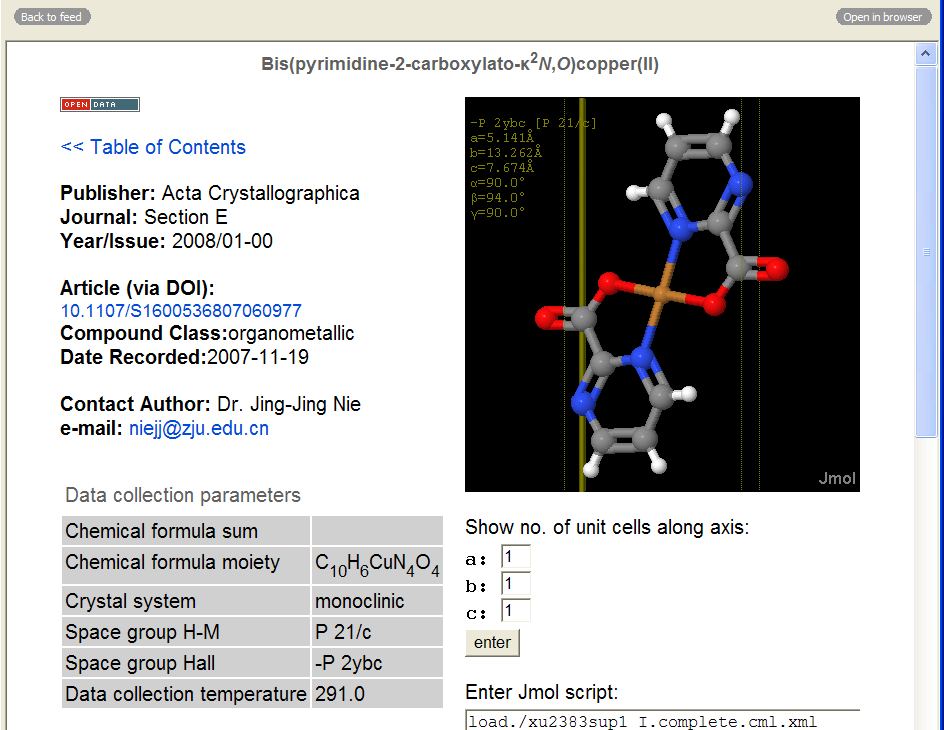 Click to enlarge.
This is immediate – Nick's robots determine when a new issue has come out and various publishers are talking to us about providing RSS feeds of new issues or new articles (talked with BMC and IUCr yesterday). It makes it a lot simpler.
The possibilities are enormous. All the information is semantic and can be turned into RDF. Andrew Walkingshaw has done this and in a later post he or I will show how to search for information contained in the CIF files.  If you are only interested in Cu-N bonds there is a special feed exactly for that purpose.