While researching about Open Access I visited the TOC for Nature's MSB. (In passing, none of the articles are flagged in the TOC as Open Access, though they all actually carry a CC-licence and the journal masthead announces that this is an OA journal.) But that's not the point of this story. Here is what I actually saw: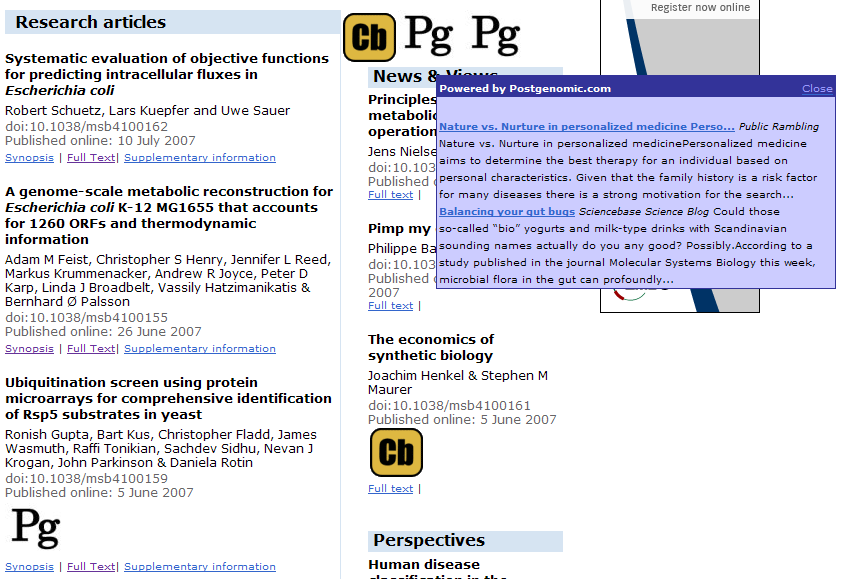 What are the Pg and Cb all over the TOC. When you bring up the page they aren't there! What's happened? Well the chemical blogosphere has posted about several articles here and mentioned their DOIs. The Blue Obelisk has developed a Gresemonkey script (which is a Firefox plugin) which reads the TOC and sees if any DOIs have been mentioned in the Chemical Blogosphere. And, in this case, three articles have been. If you mouse over them you will see the first few lines of the blog post (blue box). And clicking on the links takes you to the blog post. So if you want to see what the world thinks of your paper (and that is so much more immediate than the citation system) install the greasemonkey – it's easy. (It's at your own rsik – Greasemonky used to have a security hole,  but that has been fixed).
Cb is Chemical Blogspace. Pg is Postgenomic.
And whenever I see these icons I get a sense of the Blue Obelisk community.
This is yet another example of how the blogosphere is generating new forms of scientific reporting, criticism and review. The greasemonkey will help to change the way we report science.